COMPANY
We are the largest distributor of Kryton® International's line of crystalline Products in the US.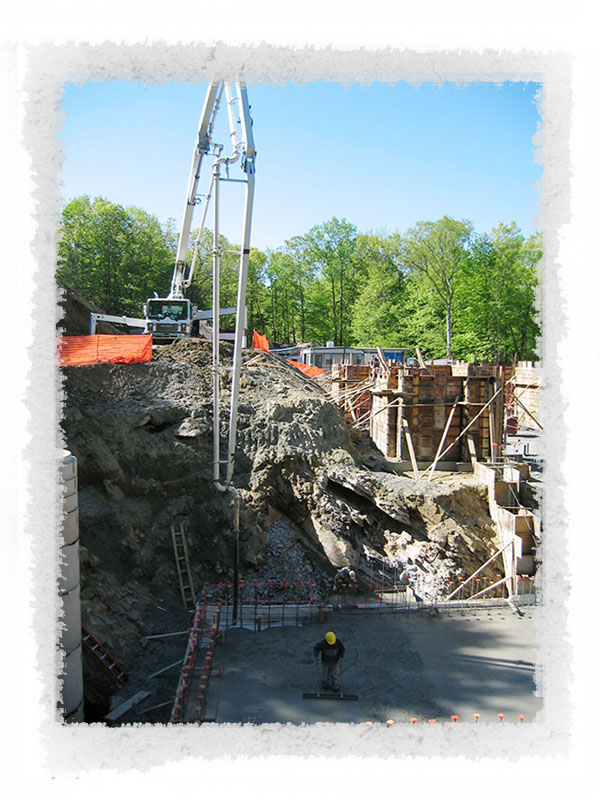 Dry Concrete is a recognized leader in Cementitious Waterproofing and Masonry Restoration. We are the largest distributor of Kryton® International's line of crystalline Products in the US.
Dry Concrete has been the recipient of the International Concrete Repair Institute "Project of the Year".
Our Products and Systems have been awarded and recognized throughout the world as innovative and leading technologies receiving such recognition as World of Concrete "Most Innovative Product" and Concrete Construction Magazine's "Most Innovative Trend." Our Materials and Methods have been used in some of the most exacting environments the world over and featured on national programs such as "This Old House". Our materials are available at many masonry supply yards or by visiting Homedepot.com or for resale distribution you can inquire directly to us at 646 404 7272.
Additionally, we counsel and train leading engineering, architectural and design-build firms on the latest means and methods of waterproofing. Clients understand our straightforward approach to waterproofing and masonry restoration and our ability to identify and mitigate risk.
Dry Concrete also specializes in repairs offering a full range of Kryton & Tremco repair materials and methodologies for tanks, parking garages, foundations and all water-challenged concrete infrastructure.
Dry Concrete, Kryton™ International and Tremco™ are leaders in innovative waterproofing technology and methods.
The American Concrete Institute classifies our integral crystalline admixture (KIM) as the highest form of permeability reducing admixture as per ACI 212 Chapter 15. Proven and tested superior to Xypex, Hycrete, BASF Rheomac, Aquafin, Penetron, Barrier-1 and other attempts at waterproofing and vapor retardation.
Kryton® products can contribute to achieving valuable leed points for your building. Learn More.

Browse Our Products
Follow Us On Instagram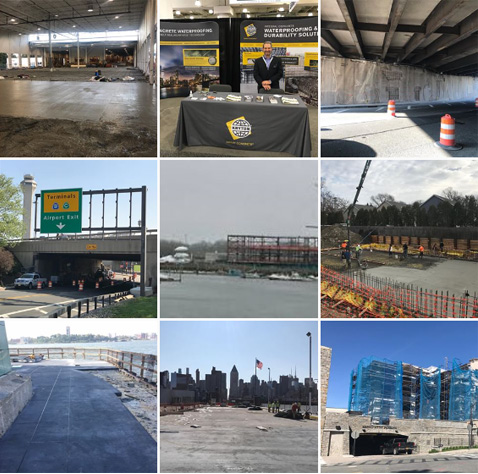 ---
LEED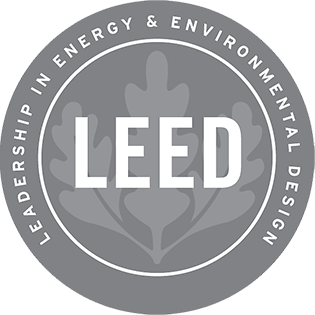 Leadership in Energy and Environmental Design (LEED) certification measures a building's environmental performance. It is one of the most widely used project rating systems for new construction and major renovations. The program is regulated by the US Green Building Council. Kryton's solutions can contribute to achieving valuable LEED points for your building.
SUSTAINABLE SITES (SS)
SS Credit Site Development: Protect or Restore Habitat (Up to 2 points)
To conserve existing natural areas and restore damaged areas to provide habitat and promote biodiversity. Kryton can help reduce site disturbance. Less excavation is required because Krystol Internal Membrane (KIM) waterproofing admixture is added directly to the concrete mix. No additional excavation to accommodate the applicators of surface-applied waterproofing membranes.
SS Credit: Heat Island Reduction (Up to 2 points)
To minimize effects on microclimates as well as human and wildlife habitats by reducing heat islands. Heat island mitigation strategies include adding exterior trees and vegetation as well as green roofs. Kryton can help to waterproof green roofs and suspended slabs.
SS Credit: Rainwater Management (up to 3 points)
To reduce runoff volume and improve water quality by replicating the natural hydrology and water balance of the site. This will be based on historical conditions and undeveloped ecosystems in the region. Kryton's KIM is commonly used to waterproof concrete storm water runoff cisterns. This Low Impact Development (LID) technique collects water for future use, resulting in both water conservation and reduction of water utility costs.
MATERIALS & RESOURCES (MR)
MR Credit: Building Life Cycle Impact Reduction (Up to 6 points)
To encourage adaptive reuse and optimize the environmental performance of products and materials. Kryton's products can repair concrete as part of a renovation. They increase both the durability and service life of the concrete structure.
MR Credit: Construction and Demolition Waste Management (Up to 2 points)
Intent: To reduce construction and demolition waste in landfills and incineration facilities by recovering, reusing and recycling materials. KIM's pulpable paper bags can be added to the concrete plant mixer or truck unopened, eliminating all packaging waste. Concrete with KIM in it can be recycled after demolition. Concrete with surface-applied membranes cannot be recycled after demolition.
INDOOR ENVIRONMENTAL QUALITY (EQ)
EQ Credit: Low-Emitting Materials (Up to 3 points)
To reduce concentrations of chemical contaminants that can damage air quality, human health, productivity, and the environment

Kryton's Concrete Waterproofing contain no volatile organic compounds (VOC) and can replace VOC emitting paints, sealers and membranes. KIM's pulpable bags are added to the concrete plant mixer or truck unopened, eliminating all dust as compared to other dry admixtures.
EQ Credit: Construction Indoor Air Quality Management Plan (Up to 1 point)
To promote the well-being of construction workers and building occupants by minimizing indoor air quality problems associated with construction and renovation.

Kryton's Krystol Technology products such as KIM and Krystol Tl Concrete Waterproofing can replace VOC materials and they do not expose workers to VOCs.
EQ Credit: Indoor Air Quality Assessment (Up to 2 points)
To establish better indoor air quality in the building after construction and during occupancy. Kryton's Krystol Technology products such as KIM and Krystol Tl Concrete Waterproofing are VOC-free and can help meet air quality test requirements.
INNOVATION AND DESIGN PROCESS
Kryton waterproofing solutions such as KIM can contribute to the Innovation category credits (up to 5 points). KIM frees designers from the design constraints of using a surface-applied membrane. Thus, Kryton solutions can contribute to innovation credits as part of a broader innovative design approach.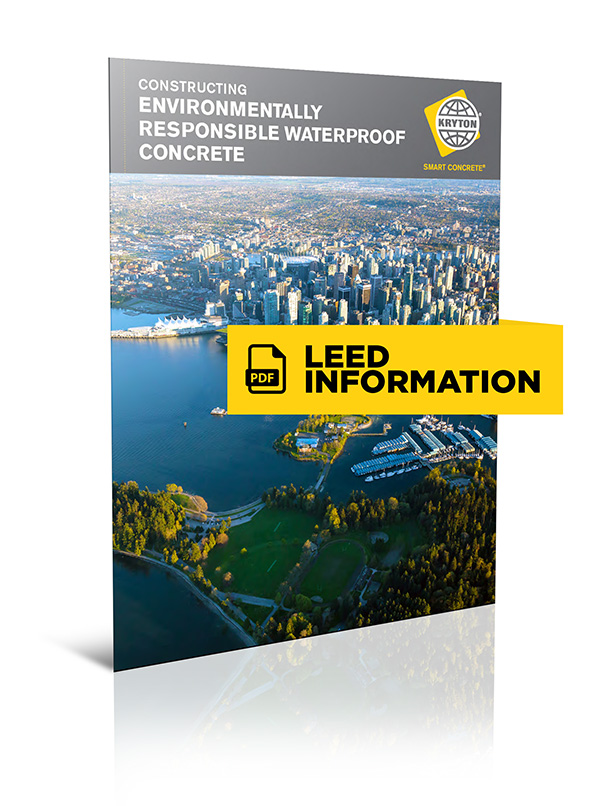 Our Clients
Dry Concrete serves a myriad of clients throughout New England and the NY Tri-State Area. Listed here is a partial list of clients, specifiers and resellers. Our material is available through most Ready Mix Suppliers in the region.
A

A.D.B.S.
ABR GC
ACME Waterproofing
Adow Pools
Aggregate Industries
Aiudi Concrete Inc
Amoskeag Beverages
Atkinson

B

Bank Of America
Basement Solutions Hudson Valley
Bay Cove Human Services
Bedford Iron Works
Berkshire Hathaway
Biogen-Idec
BOA Riverhead
Boston College
Bouley Construction
Brenner Builders
Brewster Transit Mix
BSI Builders Systems Inc
Bufftree Building
Builders Concrete East, LLC
Building and Land Technology
BWK Construction

C

Camsan Inc
Cape Cod Ready Mix
Cardi Corporation
Carroll Concrete
CBI Consulting
Chevron Corporation
Chicopee Concrete
Childrens Hospital of Boston
City of Craston, RI
City Of Derby WPCA
City of Framingham, MA
City of Middletown, CT
City of Nashua, NH
City of New Hartford
City Of New Haven
City OF NY
City of Shelton, CT
Colantonio General Contracting
Commodore Construction Corp
Commonweath of MASS
Con Ed
Coneco Engineers
Conti Services
Contracting Specialists Inc
Country Caretaker
Custom Builders of Belmont Inc.
D

D V Morin Construction Co Inc
D&M Petroleum
Damo Construction
DeRita Construction
DeRita Construction:Killingworth, Town of
Desman Associates
Devine Brothers
Duffy Greenwich LLC
Dutchboy Waterproofing

E

East Coast Resurfacing
Equity Builders
European Masonry

F

Fieber Brothers
Fields Point WWTP
Five Star Building Corp.
Fontaine Brothers
Frias Concrete Inc

G

G & B Shellfish Farm
Giorgio Builders
Grace Church
Greco Building Co.

H

Heritage Restoration
Hillcrest Clearwater Tank
Horseneck Beach Service Building

I

Integral Waterproofing Corp

J

J G Maclellan Concrete Co
J J Mottes Co.
JM Environmental

K

Kerite Corporation
Kimberly Apartments
Kleco Realty Company
KLEEN ENERGY INC

L

L&S Industries
Linden Ponds
Look Memorial Park

M

M&T Bank
Masonry Depot
M. O'Connor Contracting Inc
Maggiore Construction Inc
Malcom Building Co Inc
Marc Construction
Masonry Depot
MASS DCR
McGuire Group
Mega Contracting Inc
Michael Bolla Designs
Mold Pro
Mountainscapers Landescaping
Mystic River Building Co.
N

New Hartford Treatment Plant
NEWUS
Nickerson General Contractors
NYC- Hughes Ave

O

O&G Industries, Inc
O&G Kleen Energy Project - IWTP
Old Castle Precast
Olin Irish Contracting

P

Palisades Construction
Paramount Stone Co.
Parisaeult Construction
Parrotta Management Co.
PCI Consutants
Pelham Country Homes
Persons Concrete
Pfizer Corporation
Pompa Construction
Positive Realty
PRM Concrete Corporation

R

R.J. Forbes Painting Inc
Rapko
Related Properties
Resource Cotrol Associates, Inc
Rhode Island Ready Mix
RI Hospital
Rick Pinto Swimming Pools, Inc
Roayl Mills Riverpoint
Ron Castellano Architects
Royal Mills Riverpoint
Rye Grille

S

S&H Construction
Salem State College
Salvucci Masonry
Sergio DiSimone Construction
Skanska
South Shore Gunite Pool & Spa
Southern NH Poured Concrete Const.
Spillane
Stamford Green
Starlight Builders
Steelstone Construction
Steven Haris Architects
Struever Bros. Eccles & Rouse, Inc
Suzio York Hill
Suzio York Hill:Middlesex Hospital Parking Project
Sweeney + Conroy, Inc
T

Teamwork Contracting
The Car Store
The Fieber Group
The Pines
Thomas Construction Inc
TILCON
Tomonto Industries
Town of Westerly
Turner Construction
Tresca Brothers Sand & Gravel
Tri-Star Building Corporation
Trumbull, CT HS

U

UCONN
UMASS
UMASS - AMHERST
UMASS - Steam Tunnel
UMASS FAC
UMASS-Africa House
UMASS-Holdsworth
Universal Readymix Inc

V

Valeo Pillar
Venture Construction
Victory Consulting Group

W

Washington Mills
Weber & Associates
Westchester Community College
Whigville Dam
Worcester State College
Worth Construction Co. Inc.

Y

Yale Bowl