Products
Krystol® T1 and T2
Surface-Applied Concrete Waterproofing
Browse Our Products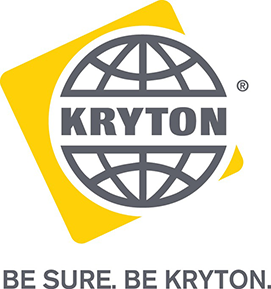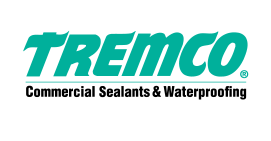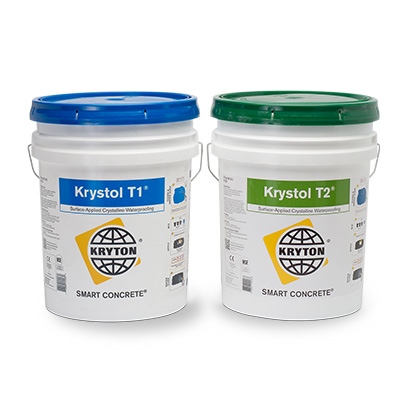 Surface-Applied Concrete Waterproofing with Krystol® T1 and T2
Recently built structures and heritage buildings need water protection too! Whether you're waterproofing a new structure or repairing leaks, Krystol's concrete waterproofing treatments allow you to turn existing concrete into a waterproof barrier reliably and cost-effectively. The result is permanently waterproof concrete — even against strong hydrostatic pressure.
How It Works
Krystol T1/T2 is a simple, two-step cementitious slurry system that is brush-applied to existing concrete structures. After application, chemicals from Krystol T1/T2 are absorbed into the concrete through capillary action (the natural wicking movement of liquids through a porous structure) and diffusion (the natural movement of chemical molecules.) Since the majority of active crystalline chemicals migrate into the concrete within the first 28 days, the surface-applied slurry can be completely removed from the surface after this time with no impact to its waterproofing properties.

Whenever waterproof crystalline masonry is needed

Krystol T1/T2 is warranted for use in place of conventional waterproofing systems. It can be used in recently poured or decades old concrete. Some of it's recommended uses are in concrete foundations and walls, elevated slabs and ramps, parking structures, water towers and bridge decks.
Product Benefits
In-depth waterproofing abilities
System becomes an integral part of the concrete
Impermeability lasts as long as the concrete
Impermeability is not affected by surface wear or abrasion
Protects reinforcing steel from corrosion
Protects against waterborne contaminants
Stops ingress of water required for reaction of AAR/ASR
Completely eliminates the need for costly, surface applied membranes
Efficient application method
Can be applied to wet concrete
Can be used for new or existing concrete
Can be applied to positive or negative side of concrete
Does not require re-application
Not subject to stringent workmanship requirements of membrane applications at details and joints
Compatible with water-based glues and surface coatings
Withstands high hydrostatic pressure
Ideal for below grade applications, reservoirs and pipelines
Stops moisture from coming up through concrete to debond floor materials, coatings and tiles
Stops water from penetrating concrete in extreme applications
Protects against waterborne ground contaminants
High-growth organic technology
Zero VOC
Does not contain stearates, sodiums or silicates
Not a surface densification product
Not a hydrophobic product
NSF approved for contact with potable water
Will grow Krystols years after initial application
Will re-activate in the presence of moisture
Self-heals micro-cracking that may occur and stops water ingress that may occur from subsequent damage to the structure
Continually improves with time
Applications
Krystol T1 is used in both recently poured or decades old concrete. It is the ideal surface applied waterproofing system for foundations & walls, elevated slabs & ramps, parking structures, water towers & bridge decks.
Foundations Walls
Elevated slabs and ramps
Parking structures
Water towers
Bridge decks
Tanks
Purchase at Homedepot.com
Product Resources & Services

Products